The AWC is leading a national movement supporting America's older workers. We educate employers, workforce practitioners, philanthropic leaders, economic development teams, and the American public on the critical role that older workers play in the success of employers and local communities. And, for that, we need data. We are proud to release the first AWC Older Worker Report 2022.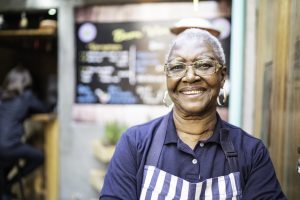 Authored by Julia Pollak, Chief Economist at ZipRecruiter, this first-of-its-kind report analyzes the current labor situation for older adults in the U.S. While many Americans emerged from the COVID-19 pandemic in a stronger employment situation, older workers – especially older women and most especially older women of color – have not yet recovered. The pandemic recession reduced employment among older workers far more sharply than among younger cohorts, and far more sharply than in any prior recession. The OWR explores reasons for the persistent decline in labor market outcomes among older workers—particularly women of color—and provides recommendations for policymakers, businesses, and civil society.
The AWC Older Worker Report 2022: The Intersection of Age, Race & Gender will be released in the Fall of 2022. Julia Pollak presented the key findings from the report at the Center for Workforce Inclusion Equity Summit on September 19, 2022.
Click hEre to view her presentation
---
The AWC is proud to present the Older Worker Report in collaboration with WorkingNation.
Julia Pollak, Chief Economist, ZipRecruiter
Julia Pollak is Chief Economist at ZipRecruiter, a leading online employment marketplace that uses AI-driven smart matching technology to connect millions of businesses and job seekers. She uses data from the ZipRecruiter marketplace to measure the health of the labor market, identify hiring trends, and help employers and job seekers prepare for the future of work. Her research is frequently cited in leading national outlets, like the New York Times, Wall Street Journal, and NPR. She is also a contributor to Barron's and a member of the Forbes Human Resources Council.  
Prior to working at ZipRecruiter, Julia was an Assistant Policy Analyst at the RAND Corporation and an adjunct economics instructor at Pepperdine University. 
Julia holds a B.A. in economics from Harvard and an M.Phil. in policy analysis from Pardee RAND Graduate School. She was a drilling reservist in the U.S. Navy from 2011 to 2022.