Honoring the Legacy of David Kim
Remembering David Kim
It is with deep sadness that we mourn the loss of David Kim, President & CEO of the National Asian Pacific Center on Aging (NAPCA) and a cherished leader within the American Workforce Coalition (AWC). As one of the founding members of the AWC, David played a crucial role in shaping our organization's mission and values. His generosity of spirit, keen sense of humor, and willingness to engage community leaders on behalf of the AWC broadened our reach of influencers and nurtured key legislative allies. He had an innate ability to connect with people, bridging gaps and fostering meaningful collaborations.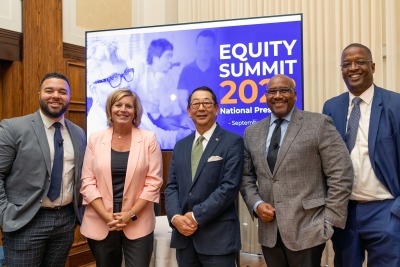 To me, David was not only a colleague but also a loyal friend. He was always willing to offer sage counsel on strategy and tactics. His courage to confront workforce injustice for older adults was admirable, as he fearlessly spoke the truth and fought for what was right. David was a committed champion and advocate for our nation's Asian American and Pacific Islander (AAPI) community, tirelessly working to preserve and promote the dignity, well-being, and quality of life of AAPIs as they age.
David will be deeply missed. His unwavering dedication to the AWC and his tireless efforts to advance the causes we hold dear have left an indelible mark on our organization and the lives of countless individuals.
On behalf of the AWC, I extend our heartfelt condolences to David's family, as well as Gie Kim, Chairman of NAPCA. We recognize the profound loss we all share, and our thoughts and prayers are with you during this difficult time.
In honoring David's memory, let us continue his legacy by renewing our commitment to the ideals he held dear. Let us stand united in our pursuit of equitable opportunities for all members of our workforce. May we strive to emulate his unwavering passion, his integrity, and his dedication to building a better future for all, regardless of race, gender or age.
Rest in peace, dear friend. Your impact on our lives and the American Workforce Coalition will never be forgotten.
– Gary A. Officer, President and CEO, Center for Workforce Inclusion.